Employee wellbeing is no longer just a 'nice to have'. A supported workforce is not only much more likely to feel engaged and valued within the workplace, but is also more productive too. Financial stability and security play an imperative part in achieving employee wellbeing and employers are swiftly recognising the significant benefits of providing access to financial education and advice
The Armstrong Watson Financial Planning and Wealth Management team are helping businesses to create and administer financial wellbeing programmes, specific to employer and employee needs. This can take the form of seminars, workshops and webinars covering a range of topics, bespoke communications and individual financial planning advice.
Download our detailed Programme
Click here to download our Financial Education & Wellbeing Programme.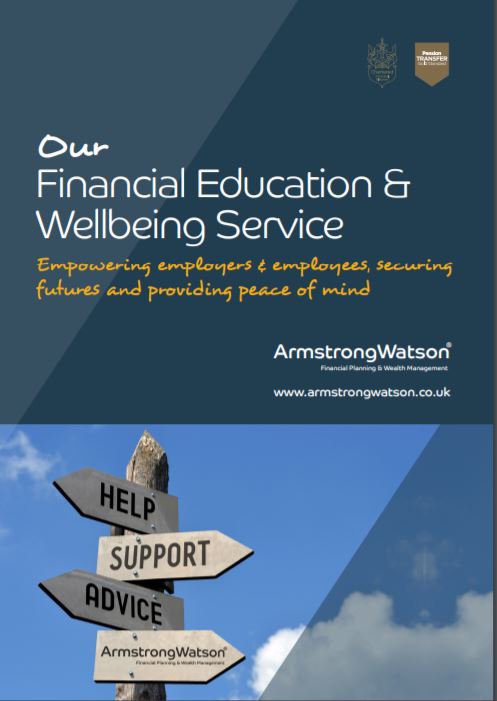 Useful Articles
Here are a couple of articles on Financial Education and Wellbeing that you might be interested in
Employee Survey Example
Here is an example of a survey which can be customised for your employees to understand what topics they would be interested in learning more about.
View the sample survey here.
Included in our Education and Wellbeing programme
Pre Retirement:
Wanting to buy my first house. How much do I need to save?
Have I got sufficient savings for things that go wrong?
What happens to my spouse/ partner or home if I die or become seriously ill?
What happens to my income if I fall ill and cannot work?
Is my money working as hard as I am?
Post Retirement:
When do I want to retire?
When can I afford to retire?
How will divorce affect my finances?
How do I help my children buy their first home?
How long will my money last in retirement?
Can I help with my grandchildren's education?
Will my family be financially secure when I am not around?
How much does care cost and can I afford it?
I want to ensure my assets go to people I choose – Lasting Powers of Attorney & Wills
What is Inheritance Tax and how do I avoid this?
Our experienced team has already worked with a number of companies in this area including InTechnology, Sedbergh School, John Good Shipping Ltd, Innovia Films and AccessPlanit
If you'd like further information about our Financial Education and Wellbeing programme, please get in touch with Dominic Gaunt, Partnership and Relationship Manager at dominic.gaunt@armstrongwatson.co.uk or call on 07850 953197.