Operating your business outside of the UK can be both daunting and challenging, particularly post-Brexit. If you are a privately owned, family-owned or owner-managed business in the UK looking to do business or have business interests overseas, Armstrong Watson is able to support you.
International aspects cut across all our areas of expertise and there is no one typical scenario. We are here to help, whether you are a large company looking at group structures for UK expansion or cross-border trading or an individual with foreign residency issues.
How we can help with your overseas accounting, business and legal requirements
We specialise in helping privately owned, family-owned and owner-managed businesses to run more successful and profitable businesses. As our Quest says, our focus is to help our clients 'achieve prosperity, a secure future and peace of mind,' and this includes offering access to support outside of the UK.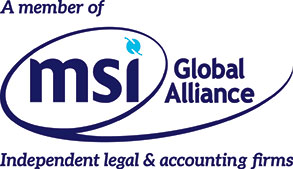 Introducing MSI Global Alliance
We are part of the MSI Global Alliance of Accountants and Lawyers, providing you with a global reach, and access to local knowledge and expertise in over 100 international areas. We will work with MSI members or your existing advisers to coordinate your affairs across the globe, ensuring that you comply with local regulations, optimise tax planning and satisfy legal requirements unique to the specific international region/s relevant to your business need. 
Global reach
The MSI Global Alliance is a network of independent accountancy and legal firms located in over 100 countries worldwide. This global reach can be invaluable when conducting business overseas or dealing with cross-border transactions.
Local knowledge and expertise
Armstrong Watson, through our membership of the MSI Global Alliance, allows you to tap into the expertise of member firms in different countries. Each member firm understands the specific regulations, tax laws, and cultural nuances of their respective regions. This can help ensure compliance with local regulations, optimise tax planning, and navigate any legal complexities associated with doing business outside the UK.
Seamless coordination across multiple countries
When you engage with Armstrong Watson we can act as your central point of contact for all your international accounting and legal needs. We work closely with the network of member firms to coordinate services and provide you with a seamless experience. This eliminates the need for you to individually engage multiple firms in different countries, streamlining the process and saving you time and effort.
Access to specialised services and business expansion support
The MSI Global Alliance encompasses a wide range of professionals, including accountants, tax advisors, auditors, lawyers, and business consultants. This breadth of expertise allows you to access specialised services tailored to your specific needs. Whether you require assistance with international tax planning, transfer pricing, legal compliance, or market entry strategies, MSI can connect you with professionals who have the necessary knowledge and experience.
Enhanced credibility
Partnering with Armstrong Watson as your accountants and advisers as part of the Alliance can enhance your business's credibility in international markets. It demonstrates that you have access to a trusted network of professionals and resources, which can be reassuring to potential clients, partners, and investors in foreign jurisdictions.
Working with Armstrong Watson as a member firm affiliated with the MSI Global Alliance can offer significant advantages for a UK privately owned business operating internationally. We provide access to global expertise, facilitate coordination across multiple jurisdictions, and support your business's growth and compliance needs in overseas markets.
For help and support doing business outside the UK, please get in touch with Paul Dickson or Matt Osbourne and we will be pleased to point you in the right direction.